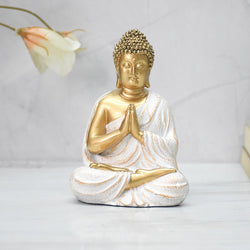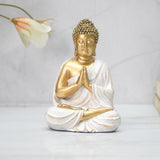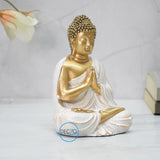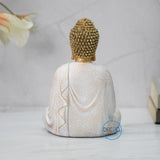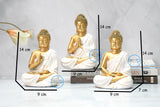 If it's inner peace you seek, the meditative pose (Dhyana Mudra) of Buddha is for you. In this pose, Buddha is seen sitting with his legs folded, face up and hands lying on the lap. Buddha's eyes are fully or partially closed as he is deep in meditation.

Where to put these: Meditation Buddha idols can be placed in the outdoor garden or any quiet corner of the house to create serenity and zen ambiance.

Product : 1 Buddha Murti
Material : Polyresin
Care Instructions : Wipe with soft , dry and clean cloth, Avoid chemical for cleaning, Store in dry place

Country of Origin : India
Net Quantity : 1
Dimensions (CM) : 14x9x7
Color : Golden and white
How to Clean :
Step- 1:- Remove the dust with soft brush or air pressure
Step-2:- Make a basin of clean water
Step-3:- Pour in an appropriate amount of detergent Stir and foam
Step -4:-Take a soft foam sponge and Gently wash your statues using sponge. (Do not hard rub).
Step-5:- Wipe with soft dry cloth