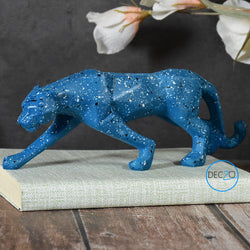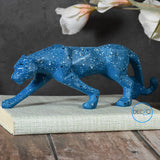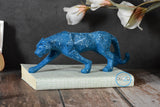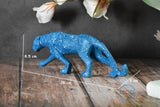 It is made of environmental resin material. It is one of the most popular forms of handicraft nowadays. Compared with expensive collections, it seems simple and pure
On the contrary, it has won the favour of consumers. It can enhance the house, office etc. style, and the taste of home well..Great for new home owner, wedding, Birthday, Christmas, Yoga studio, etc. as present.
Made of poly resin. Statue is resistant to any, even the most unfavorable, weather conditions: temperature changes, dampness, moisture, frost, sunlight.
Due to the fact there are no rubber additives in the material, yard sculpture will not melt in the sun and will not lose its shape.
Material:Polyresin
Color: Artistic Blue
Package Content: 1Panther
Dimensions (CM) : 26x8.5x5
Weight (GM) : Approx. 200 Grams
Uses: Indoor and Outdoor
                                               How to Clean :
Step- 1:- Remove  the dust with soft brush or air pressure
Step-2:- Make a basin of clean water
Step-3:- Pour in an appropriate amount of detergent Stir and foam
Step -4:-Take a soft foam sponge and Gently wash your statues using sponge. (Do not hard rub).
Step-5:- Wipe with soft dry cloth