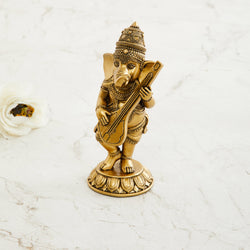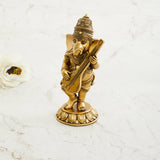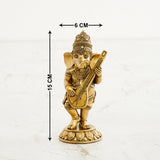 Ganesha is the son of Shiva and Parvati, the God governing the life-force and the earth-mother. This is a wonderful statue of Ganesha wearing red clothing seated upon a large lotus flower. Ganesha is a widely worshipped Hindu deity, and often revered as the remover of obstacles, the patron of arts and sciences, and the deva of intellect and wisdom. Ganesha`s trunk symbolizes the fact that a wise person has both immense strength, and fine discrimination. 
Bring Ganesha playing with Sitar Polyresin Statue.It is hand painted in an attractive golden color. This statue depicts Ganesha seated with a rat to one side looking up at him, daring not to partake in the sweet Ladoos without Ganesha`s permission.
Application scope: Living room, bedroom, study, office, meditation room, yoga room, hotel, library,etc.
Material: Resin/Polyresin
Box Content: Ganesha Statue
Dimensions(CM) : 15x6x6
Care: Wipe with dry soft cloth.