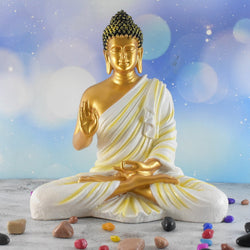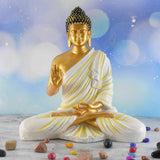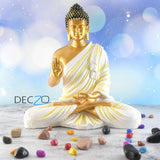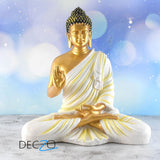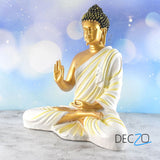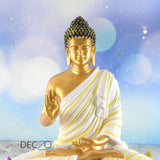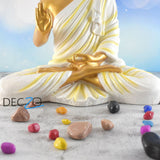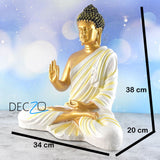 Buddha is a symbol of enlightenment, balance and inner peace. By placing an image or statue of a Buddha in the North-East direction, we can stimulate the high powered energy of this corner. The North-East zone is also ruled by water energy, and hence the Buddha statue can be used in combination with the water element.
Made of poly resin. Statue is resistant to any, even the most unfavorable, weather conditions: temperature changes, dampness, moisture, frost, sunlight.
Due to the fact there are no rubber additives in the material, yard sculpture will not melt in the sun and will not lose its shape.
Perfect for adding a decorative touch to any bedroom, living area, dining table, office, spa, nursery, or even a foyer or entryway

Product : 1 Buddha Murti
Material : Polyresin
Color: Body Color- Golden
Design : Abstract
Country of Origin : India
Net Quantity : 1
Dimensions : 38x34x20 cm
Set Size : Single Pc
Care Instructions : Wipe with soft , dry and clean cloth, Avoid chemical for cleaning, Store in dry place
Awesome 👍
Lived up to my expectations!!! Thank you soo much!!! It's perfect!!! All the best in your Business!!! God bless you!!!
Perfect for our TV cabinet
Perfect shape and size for our TV cabinet. The weight is light and looks beautiful.