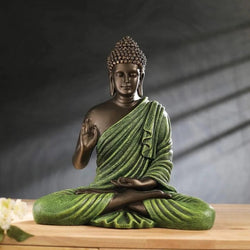 Deczo_india
The Healing Spirit Blessing Buddha Statue : 1.25 Feet, Pearl Black-Green
Buddha Brings Peace and Positive Energy at your Home . According to Vastu, placing the Buddha at different places in your home can impact your mental health and peace. Here we present one of the most amazing design of Lord Buddha for your home and loved ones. Made by our professional with perfection.
They can accent your home or office for the right decor. Perfect for adding a decorative touch to any bedroom, living area, dining table, office, spa, nursery, or even a foyer or entryway.A perfect fusion of elegance and beauty, this alluring Buddha Statue will surely catch your guest's attention. This home decor amalgamation consists of a Poly resin Buddha figurine that will make your home bright and glistening. Gift this charismatic decor to your family & friends as a token of love and peace. This detailed statue of the meditating Buddha face imparts peace and serenity upon its immediate surroundings.
Made of poly resin. Statue is resistant to any, even the most unfavorable, weather conditions: temperature changes, dampness, moisture, frost, sunlight.
Due to the fact there are no rubber additives in the material, yard sculpture will not melt in the sun and will not lose its shape.
Lawn figure can be outdoors all year long. Figure is empty inside.
Sculpture is eco-friendly and absolutely safe for people and the environment.
Product : 1 Buddha Murti
Material : Polyresin
Color: Body- Pearl Black, Clothes- Green
Washable : Yes (Do Not Rub )
Uses: Indoor and Outdoor
Country of Origin : India
Net Quantity : 1
Dimensions (CM) : 38x34x20

How to Clean :
Step- 1:- Remove the dust with soft brush or air pressure
Step-2:- Make a basin of clean water
Step-3:- Pour in an appropriate amount of detergent Stir and foam
Step -4:-Take a soft foam sponge and Gently wash your statues using sponge. (Do not hard rub).
Step-5:- Wipe with soft dry cloth