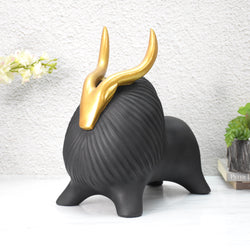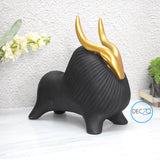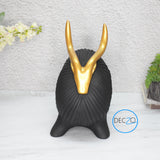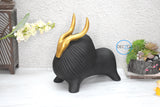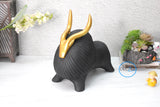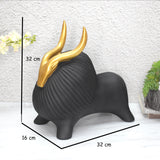 The Golden Horned Black Yak is a one-of-a-kind table accent that is going to create a royal and modern look for your existing decor. The cute figurines shall be perfect for children's bedrooms and even for an office where you'd like to bring a sense of calm. The golden horns of these yaks give them a very modern and refined look.
To understand the importance of yaks and then include them in your decor would be a wonderful idea. They hold cultural importance in the Himlayan tribal communities in India and in China as well. By including a yak in our decor we may be reminded of the importance of nature's creation!
The Golden Horned Black Yak Table Accent justifies the name given to it. A combination of textures, and uses, the decor item is a modern amenity that should be used by everyone who appreciates a multipurpose product. The table accent will easily fit into your home or office style.
SPECIFICATIONS
Material: Polyresin, Polystone

Dimension: L- 32cm, H- 32cm B-16cm

Color: Black with Gold Horn

Finish- Shiny Horn and Matte Body

package contains : 1 Black yak with golden horn