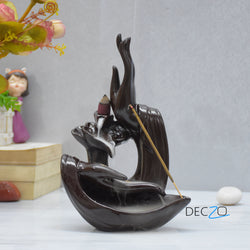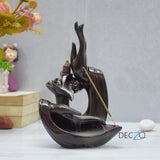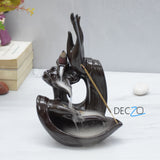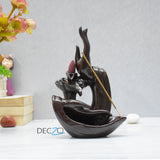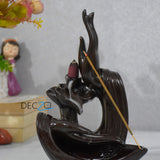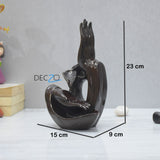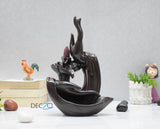 The Buddha Hand Incense Holder are taken as the objects of great significance in Buddhism. Thoughtfully handcrafted, in different postures and colors, these sculptures also act as great objects of decoration of anyone's surroundings as they radiate the feeling of peace and calm around you. Everyone wants perfect peace of mind that's free from ignorance, greed, hatred and other afflictive states. Buddha has always been a great symbol of peace. So, what could be a better gift or a better option to bring home than the idol of Buddha. The idol is made of premium quality polyresin and has been designed beautifully. This statue has been enthusiastically handcrafted and colored by skilled artisans using various conventional techniques.
Application scope: Living room, bedroom, study, office, meditation room, yoga room, hotel, library,etc. These marvelous resin incense burners will provide years and years of usage and are an easy way to add a beautiful fragrance to your home or office.
Backflow incense burner creates an illusion of a smokey waterfall. Simply place an incense cone at the top of the mountain Buddha  and smoke will flow through the sides . It will give amazing look to your living room
The smoke flowing downwards over Buddha's hands creates a calm, mystical effect of a waterfall - changing the energy of your room in positive ways.                                                
Product : 1 Incense holder
Material : Polyresin
Color : Brown
Design : Abstract
Country of Origin : India
Net Quantity : 1
Dimensions (cm) : 

23x15x9

Set Size : Single Pc
Additional Feature : Enlightening our surroundings, Decorating Home
Care Instructions : Wipe with soft , dry and clean cloth, Avoid chemical for cleaning, Store in dry place